Analysing adolescents' reasoning about historical responsibility in dialogue between history education and social psychology
Abstract
Historical and moral consciousness have been studied by specialists in history education and social psychology, respectively, yet the two fields of study have remained separate also when they share an interest in the dynamics of how people respond to moral dilemmas, process them and create morally meaningful narratives of human conduct. This article seeks to identify concepts and interpretative frames that could be mobilised in analyses of shared material for the purpose of developing deeper understanding of the intersections of historical and moral consciousness in exchange between history education and social psychology. One of the authors has researched moral reasoning and moral sensitivity, the other has researched adolescents' historical consciousness. The empirical material was collected in 2008–2009, in a study of how Finnish upper secondary school students reason about transgenerational responsibility and reparation. How the students process and negotiate these issues was initially analysed as a manifestation of their historical consciousness. This article explores what approaches and concepts could be relevant when analysing the material in the framework of a social-psychological study of morality. The article is also an exercise in co-authoring where the authors have produced the text in dialogic exchange, writing one chapter each in turn and responding to each other's ideas.
Refbacks
There are currently no refbacks.
Copyright (c) 2017 Jan Löfström & Liisa Myyry
---
Historical Encounters is a double blind peer-reviewed, open access, interdisciplinary journal dedicated to the empirical and theoretical study of historical consciousness, historical cultures, and history education.
The journal is published by the HERMES History Education Research Network concentrated at The University of Newcastle, Australia. The journal publishes at least two issues per year (one will typically have a special theme). To ensure timely availability of scholarship, articles and reviews are published as soon as they have been successfully through the peer review and editorial processes, adding cumulatively to the content for the single regular issue each year. No fees are charged for subscription or publication. The journal is indexed in SCOPUS, DOAJ, and Google Scholar, and periodically archived in the National Library of Australia's PANDORA Archive. Contributors to the journal retain copyright to their work. Please read the Copyright Notice for full details.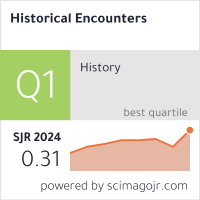 Click here to download the Journal Information booklet, with complete Author Guidelines.
Follow us on Twitter: @HEJ_HERMES or #HistoricalEncounters
A/ Professor Robert J. Parkes, PhD
Editor-in-Chief | Historical Encounters
Faculty of Education and Arts
The University of Newcastle
Callaghan NSW 2308 Australia
All correspondence: editorialteam@hermes-history.net
ISSN 2203-7543