Historical consciousness: From nationalist entanglements to the affective embodiment of a concept
Abstract
Given the popularity of historical consciousness within history education (Anderson, 2017; Seixas, 2006, 2017), there is a need to pause for reflection to consider the stakes, tenets, and presuppositions in taking on, continuing, and teaching, a traditional historical consciousness in disciplinary history.  Drawing on Seixas' (2006) definition of historical consciousness, that being the intersection between public memory, history education and citizenship, we argue these underlying principles maintain and sustain oppressive, exclusionary practices. Such an understanding of historical consciousness fails to account for the ways in which histories are embodied, living in/through bodies, and cannot be separated from daily realities.  Further, a dis-embodied historical consciousness does not allow for understanding histories as co-constitutive processes, which interweave and assemble in relational flows.  In turn, we seek to work through an embodied historical consciousness, arguing this is necessary for an intra-relational assemblage of the past within the present, moving away from "rival histories" and their disciplinary boundaries that are inextricably tied to the state (Barad, 2007; Elmersjo, Clark, & Vinterek, 2017).  This means not only being attentive to bodies in-and-as history, but making an overt space for working through affective elements, the trauma of being compared to the somatic norm (Puwar, 2004), and the national grand narratives that creates a limited and exclusionary version of "common memory" to critically theorize historical consciousness.
Keywords
historical consciousness; onto-epistemology; embodiment; nation
Refbacks
There are currently no refbacks.
Copyright (c) 2019 Nichole E Grant, Pamela Rogers
---
Historical Encounters is a double blind peer-reviewed, open access, interdisciplinary journal dedicated to the empirical and theoretical study of historical consciousness, historical cultures, and history education.
The journal is published by the HERMES History Education Research Network concentrated at The University of Newcastle, Australia. The journal publishes at least two issues per year (one will typically have a special theme). To ensure timely availability of scholarship, articles and reviews are published as soon as they have been successfully through the peer review and editorial processes, adding cumulatively to the content for the single regular issue each year. No fees are charged for subscription or publication. The journal is indexed in SCOPUS, DOAJ, and Google Scholar, and periodically archived in the National Library of Australia's PANDORA Archive. Contributors to the journal retain copyright to their work. Please read the Copyright Notice for full details.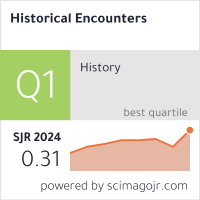 Click here to download the Journal Information booklet, with complete Author Guidelines.
Follow us on Twitter: @HEJ_HERMES or #HistoricalEncounters
A/ Professor Robert J. Parkes, PhD
Editor-in-Chief | Historical Encounters
Faculty of Education and Arts
The University of Newcastle
Callaghan NSW 2308 Australia
All correspondence: editorialteam@hermes-history.net
ISSN 2203-7543