Guarding against the 'loss of national memory': The communist past as a controversial issue in Czech history education
Abstract
In the first decade of the 2000s, a wave of qualitatively new anti-communist politics of memory resulted in a specific "upsurge of memory" in Czech history education. Various remembrance agents started to influence history education with the goal of turning schools into an area where Czech society could continue the process of dealing with the troubled communist past. Using new methods and media, such as emotional TV documentaries and debates with eyewitnesses of communist repression, civic society initiatives got involved in negotiating the public consensus over the question of how to teach and remember the history of state socialism. The author examines the context and consequences of this discourse of dealing with the past for history education, especially in the way this remembrance activism utilises the totalitarian paradigm. It is evident that the mobilisation of remembrance to serve present day citizenship objectives has resulted in recent controversies, as teachers had to deal with the dilemma of how to expose the historical significance of various memory-carrier groups in their classrooms. Based on the experience from an educational project in which students investigated family memory, the author advocates that teachers should encourage students to analyse familial and pop culture narratives in order to enhance their own understanding of how these reconstruct the past.
Refbacks
There are currently no refbacks.
Copyright (c) 2021 Jaroslav Najbert
---
Historical Encounters is a double blind peer-reviewed, open access, interdisciplinary journal dedicated to the empirical and theoretical study of historical consciousness, historical cultures, and history education.
The journal is published by the HERMES History Education Research Network concentrated at The University of Newcastle, Australia. The journal publishes at least two issues per year (one will typically have a special theme). To ensure timely availability of scholarship, articles and reviews are published as soon as they have been successfully through the peer review and editorial processes, adding cumulatively to the content for the single regular issue each year. No fees are charged for subscription or publication. The journal is indexed in SCOPUS, DOAJ, and Google Scholar, and periodically archived in the National Library of Australia's PANDORA Archive. Contributors to the journal retain copyright to their work. Please read the Copyright Notice for full details.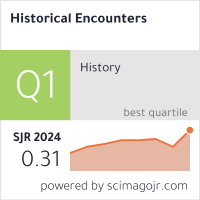 Click here to download the Journal Information booklet, with complete Author Guidelines.
Follow us on Twitter: @HEJ_HERMES or #HistoricalEncounters
A/ Professor Robert J. Parkes, PhD
Editor-in-Chief | Historical Encounters
Faculty of Education and Arts
The University of Newcastle
Callaghan NSW 2308 Australia
All correspondence: editorialteam@hermes-history.net
ISSN 2203-7543