Presentism, alterity and historical thinking
Abstract
"Presentism" as the non-recognition of fundamental otherness of the past ("historical alterity") is often regarded as ultimately flawed, but at the same time as a kind of innate form of historical thought (Wineburg's "unnatural act"), which must be overcome through history education. The premise of the otherness of the past does, however, also have its pitfalls and limitations.
Using an example of a problematic diagnosis of historical thought as "presentistic", the article outlines the challenge of a more comprehensive concept of historical thinking and learning.
Keywords
Historical Thinking; History Education; Presentism; Jörn Rüsen; Sam Wineburg; Stéphane Lévesque;
Refbacks
Copyright (c) 2021 Andreas Körber
---
Historical Encounters is a double blind peer-reviewed, open access, interdisciplinary journal dedicated to the empirical and theoretical study of historical consciousness, historical cultures, and history education.
The journal is published by the HERMES History Education Research Network concentrated at The University of Newcastle, Australia. The journal publishes at least two issues per year (one will typically have a special theme). To ensure timely availability of scholarship, articles and reviews are published as soon as they have been successfully through the peer review and editorial processes, adding cumulatively to the content for the single regular issue each year. No fees are charged for subscription or publication. The journal is indexed in SCOPUS, DOAJ, and Google Scholar, and periodically archived in the National Library of Australia's PANDORA Archive. Contributors to the journal retain copyright to their work. Please read the Copyright Notice for full details.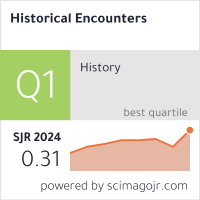 Click here to download the Journal Information booklet, with complete Author Guidelines.
Follow us on Twitter: @HEJ_HERMES or #HistoricalEncounters
A/ Professor Robert J. Parkes, PhD
Editor-in-Chief | Historical Encounters
Faculty of Education and Arts
The University of Newcastle
Callaghan NSW 2308 Australia
All correspondence: editorialteam@hermes-history.net
ISSN 2203-7543