Inquiring the political dimension of history classroom practices: suggestions for epistemological criteria and analytical concepts
Abstract
In this paper, three epistemological criteria are suggested against which analytical frameworks for studying the political dimension of history classroom practices can be deemed viable. The suggested criteria - (I) the primacy of practice, (II) the primacy of empirical openness and (III) the primacy of the political - are articulated by conducting critical and affirmative readings of previously established concepts, primarily historical consciousness. To clarify their application, the criteria are positioned in relation to the premises and concepts of a potential framework; namely, the logics of critical explanation (Glynos & Howarth, 2007), the viability of which is argued for theoretically and empirically.
Keywords
History Education; History Wars; Politics; Classroom Practice
Refbacks
There are currently no refbacks.
Copyright (c) 2021 Andreas Mårdh
---
Historical Encounters is a double blind peer-reviewed, open access, interdisciplinary journal dedicated to the empirical and theoretical study of historical consciousness, historical cultures, and history education.
The journal is published by the HERMES History Education Research Network concentrated at The University of Newcastle, Australia. The journal publishes at least two issues per year (one will typically have a special theme). To ensure timely availability of scholarship, articles and reviews are published as soon as they have been successfully through the peer review and editorial processes, adding cumulatively to the content for the single regular issue each year. No fees are charged for subscription or publication. The journal is indexed in SCOPUS, DOAJ, and Google Scholar, and periodically archived in the National Library of Australia's PANDORA Archive. Contributors to the journal retain copyright to their work. Please read the Copyright Notice for full details.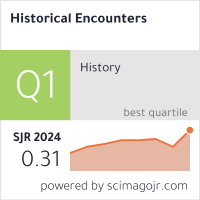 Click here to download the Journal Information booklet, with complete Author Guidelines.
Follow us on Twitter: @HEJ_HERMES or #HistoricalEncounters
A/ Professor Robert J. Parkes, PhD
Editor-in-Chief | Historical Encounters
Faculty of Education and Arts
The University of Newcastle
Callaghan NSW 2308 Australia
All correspondence: editorialteam@hermes-history.net
ISSN 2203-7543