A computer simulation in the context of history teaching in Czech schools: Using the 'Czechoslovakia 38-39' educational simulation
Abstract
Educational simulations represent a substantial innovation in the formal learning process, mainly due to their dynamic structure, interactivity, and complexity. Nevertheless, these features could arguably simultaneously problematise the adaption of digital simulations to "traditional" forms of teaching. Educational simulations not only provide a concrete methodical approach but also create new educational environments ("problem spaces"), generating additional sets of goals in other areas of learning (for example, in personal and social education), thus moving beyond the limits of classical history teaching. In a case study of the Czechoslovakia 38-89educational simulation, we demonstrate how an educational simulation can extend educational goals from the reproduction of facts towards a deeper understanding of the multifaceted historical context. Stemming from a field survey that took place at 38 schools with more than 3500 students, this paper analyses the benefits and challenges related to the use of the above-mentioned digital simulation in the Czech formal schooling system and the acceptance of the simulation by Czech teachers and students. 
The study also describes how an educational simulation benefits students in terms of reflecting on witness accounts, illustrates the benefits of using constructed memory for education, and reflects the problem of the authenticity of witness accounts in historical education.
Keywords
educational simulation, teaching practice, simulation Czechoslovakia 38-89, acceptance
Refbacks
There are currently no refbacks.
Copyright (c) 2021 Jaroslav Pinkas, Tereza Hannemann
---
Historical Encounters is a double blind peer-reviewed, open access, interdisciplinary journal dedicated to the empirical and theoretical study of historical consciousness, historical cultures, and history education.
The journal is published by the HERMES History Education Research Network concentrated at The University of Newcastle, Australia. The journal publishes at least two issues per year (one will typically have a special theme). To ensure timely availability of scholarship, articles and reviews are published as soon as they have been successfully through the peer review and editorial processes, adding cumulatively to the content for the single regular issue each year. No fees are charged for subscription or publication. The journal is indexed in SCOPUS, DOAJ, and Google Scholar, and periodically archived in the National Library of Australia's PANDORA Archive. Contributors to the journal retain copyright to their work. Please read the Copyright Notice for full details.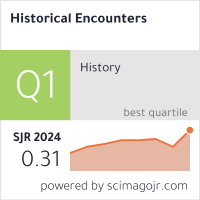 Click here to download the Journal Information booklet, with complete Author Guidelines.
Follow us on Twitter: @HEJ_HERMES or #HistoricalEncounters
A/ Professor Robert J. Parkes, PhD
Editor-in-Chief | Historical Encounters
Faculty of Education and Arts
The University of Newcastle
Callaghan NSW 2308 Australia
All correspondence: editorialteam@hermes-history.net
ISSN 2203-7543