Extending historical consciousness: Past futures and future pasts
Abstract
The concept of Historical Consciousness which played a prominent role in modernising history education in many countries was introduced into the debate of history education in the mid 1970s. The fact that after 40 years, no single definition is unanimously agreed upon, need not be a drawback for the concept's further fruitfully instigating research and discussion. In a first part, this article exemplifies the productive challenge which can be exerted onto the conceptualisation of historical learning processes and tasks by a specific version of Historical Consciousness, being a psychological corollary of theoretical insights into the orientating function of history in individuals' and groups' life by interlinking interpretations of the past, perceptions of the present and expectations for the future (Jeismann). In a second part, then, the concept of Historical Consciousness itself is focused. It is argued that its understanding as a mental disposition for historical thinking, however fruitful, still does not meet the full extent of the requirements to temporal orientation. An extension of the presented tri-partite formula to integrating both 'past' expectations for 'the future' as well as anticipations of retrospective views of us as part of a past is recommended, drawing, inter alia,on reflections from psychoanalysis and current essay writing. An effort to reflect on possible consequences of such an extension for history education and learning tasks completes the argumentation. 
Keywords
Historical Consciousness; History Education; Learning Tasks; Past/Future.
Refbacks
There are currently no refbacks.
Copyright (c) 2021 Andreas Körber
---
Historical Encounters is a double blind peer-reviewed, open access, interdisciplinary journal dedicated to the empirical and theoretical study of historical consciousness, historical cultures, and history education.
The journal is published by the HERMES History Education Research Network concentrated at The University of Newcastle, Australia. The journal publishes at least two issues per year (one will typically have a special theme). To ensure timely availability of scholarship, articles and reviews are published as soon as they have been successfully through the peer review and editorial processes, adding cumulatively to the content for the single regular issue each year. No fees are charged for subscription or publication. The journal is indexed in SCOPUS, DOAJ, and Google Scholar, and periodically archived in the National Library of Australia's PANDORA Archive. Contributors to the journal retain copyright to their work. Please read the Copyright Notice for full details.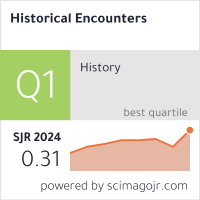 Click here to download the Journal Information booklet, with complete Author Guidelines.
Follow us on Twitter: @HEJ_HERMES or #HistoricalEncounters
A/ Professor Robert J. Parkes, PhD
Editor-in-Chief | Historical Encounters
Faculty of Education and Arts
The University of Newcastle
Callaghan NSW 2308 Australia
All correspondence: editorialteam@hermes-history.net
ISSN 2203-7543