The bearing of historical consciousness
Abstract
In 2015, the Truth and Reconciliation Commission of Canada released a list of 94 Calls to Action as a framework for Canadian society to begin to address and take collective responsibility for the harm done to generations of Aboriginal children, families, and communities by the Indian Residential School system and related governmental policies. The Calls include several items specifically addressing education, including a call to all levels of government to make curriculum about the residential schools, treaties, and Aboriginal peoples' history mandatory for students from kindergarten to grade twelve. Obviously, within such a context, history education cannot be about the construction and transmission of a coherent national narrative and national identity; rather, it requires getting to grips with what Britzman calls "difficult knowledge" about Canada's past. My purpose in this paper is two-fold: in the first section I provide a brief introduction to the two main conceptions of historical consciousness informing Anglophone history education in Canada; and in the second section I take up recent discussions about the distinction between historical consciousness as the possession of historical knowledge and historical consciousness as a life-orienting, or life-bearing praxis. Taking the latter term quite literally, I explore three potential meanings of the phrase, "the bearing of historical consciousness": 1) as a burden or weight that one bears; 2) as a stance, comportment, or way of walking in the world in relation to the past; and 3) as a measure of the relevance and significance of the past for our lives today.
Keywords
Historical Consciousness; Difficult Knowledge; Epistemic Humility; Ethical Indebtedness; Roger Simon; Peter Seixas.
Refbacks
There are currently no refbacks.
Copyright (c) 2021 Ann Chinnery
---
Historical Encounters is a double blind peer-reviewed, open access, interdisciplinary journal dedicated to the empirical and theoretical study of historical consciousness, historical cultures, and history education.
The journal is published by the HERMES History Education Research Network concentrated at The University of Newcastle, Australia. The journal publishes at least two issues per year (one will typically have a special theme). To ensure timely availability of scholarship, articles and reviews are published as soon as they have been successfully through the peer review and editorial processes, adding cumulatively to the content for the single regular issue each year. No fees are charged for subscription or publication. The journal is indexed in SCOPUS, DOAJ, and Google Scholar, and periodically archived in the National Library of Australia's PANDORA Archive. Contributors to the journal retain copyright to their work. Please read the Copyright Notice for full details.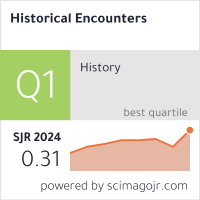 Click here to download the Journal Information booklet, with complete Author Guidelines.
Follow us on Twitter: @HEJ_HERMES or #HistoricalEncounters
A/ Professor Robert J. Parkes, PhD
Editor-in-Chief | Historical Encounters
Faculty of Education and Arts
The University of Newcastle
Callaghan NSW 2308 Australia
All correspondence: editorialteam@hermes-history.net
ISSN 2203-7543