Monumental refraction: Monuments, identity, and historical consciousness
Abstract
Over the past several years, controversies have emerged throughout the U.S. South over the future of monuments to Confederate leaders. The Confederacy was an attempt to create a new republic in the American South with enslavement as its cornerstone. Although Secession and the ensuing Civil War were disastrous for the South, many venerated those leaders and after the war they constructed monuments to promote a collective memory that promoted Southern nationalism and White supremacy. This article explores data in the form of letters a group of 10th-grade, mostly African American students wrote to the new mayor of their city, Richmond, Virginia. Richmond is the former capitol of the Confederacy and site of Monument Avenue where many Confederate statues stand to this day. It is also the sight of previous controversies, such as when a monument of African American tennis champion, and Richmond native, Arthur Ashe was added to the avenue. Those letters are analyzed using Rüsen's (2005) typology of historical consciousness. That framework has proven useful as a heuristic for describing historical arguments in the sphere of everyday life. However, it has also been critiqued for undertheorizing identity, compromising its utility as a tool to analyze the ways in which members of minority groups in heterogeneous and unequal societies make sense of the past, present, and future. Two emerging theories: King's (2019; 2018) theory of Black historical consciousness, and Zanazanian's (2012) dialogic framework for identity are also brought to bear on these data. Findings are discussed in two ways. First, as a cross case analysis based on relevant elements of the frameworks that focuses on patterns evident in the student work as a whole. Second, as three case-studies based on a sample of student work that exemplified three of Rüsen's historical consciousness types. The article concludes with a discussion of how research on historical consciousness that uses Rüsen's typology can better account for identity in heterogeneous societies. 
Keywords
historical consciousness; monuments; race
Refbacks
There are currently no refbacks.
Copyright (c) 2021 Gabriel A. Reich
---
Historical Encounters is a double blind peer-reviewed, open access, interdisciplinary journal dedicated to the empirical and theoretical study of historical consciousness, historical cultures, and history education.
The journal is published by the HERMES History Education Research Network concentrated at The University of Newcastle, Australia. The journal publishes at least two issues per year (one will typically have a special theme). To ensure timely availability of scholarship, articles and reviews are published as soon as they have been successfully through the peer review and editorial processes, adding cumulatively to the content for the single regular issue each year. No fees are charged for subscription or publication. The journal is indexed in SCOPUS, DOAJ, and Google Scholar, and periodically archived in the National Library of Australia's PANDORA Archive. Contributors to the journal retain copyright to their work. Please read the Copyright Notice for full details.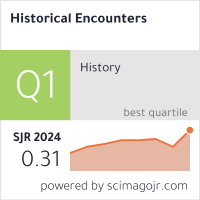 Click here to download the Journal Information booklet, with complete Author Guidelines.
Follow us on Twitter: @HEJ_HERMES or #HistoricalEncounters
A/ Professor Robert J. Parkes, PhD
Editor-in-Chief | Historical Encounters
Faculty of Education and Arts
The University of Newcastle
Callaghan NSW 2308 Australia
All correspondence: editorialteam@hermes-history.net
ISSN 2203-7543