From bits to templates: Uncovering digital interventions in everyday history assignments at secondary school
Abstract
This article explores the way students construct historical narrations in the digital age. The study, which is based on participant observation in two secondary schools in Finland, aligns with previous ethnographic research on how digital media interrupts and integrates in the formation of everyday habits and routines. The focus of the analysis is on short oral presentations of historical phenomena given by students in front of the class. During these short assignments students engage more in digital practices than doing other activities. The findings show that the accumulation of these brief assignments allows students to develop "templates for history", which I argue are elements from which they develop expectations of historical accounts for use in building their own stories. These templates include frequently consulted digital sources such as Wikipedia, and images that students find online that affect the perspective of their presentations. To these can be added other situated factors that derive from the course dynamics, such as the limited time allocated for assignments, teacher instruction in the form of inquiry or a presentation structure, and historical substance that is fragmented and arranged around single assignments. Thus far, studies on digital transformations in school history have focused on how the use of digitized primary sources can teach students to walk in the shoes of historians. The present study, in turn, concerns the ubiquitous digital culture and paraphernalia in schools. The aim is to offer teachers ways of connecting with familiar practices and to shed light on how these practices can support peer-learning, as well as to promote the idea of doing history as a collective and ever-revisiting task: all these are important objectives of school history.
Keywords
school history; secondary school; digital practices; everyday genres; ethnography
Refbacks
There are currently no refbacks.
Copyright (c) 2021 Inés Matres
---
Historical Encounters is a double blind peer-reviewed, open access, interdisciplinary journal dedicated to the empirical and theoretical study of historical consciousness, historical cultures, and history education.
The journal is published by the HERMES History Education Research Network concentrated at The University of Newcastle, Australia. The journal publishes at least two issues per year (one will typically have a special theme). To ensure timely availability of scholarship, articles and reviews are published as soon as they have been successfully through the peer review and editorial processes, adding cumulatively to the content for the single regular issue each year. No fees are charged for subscription or publication. The journal is indexed in SCOPUS, DOAJ, and Google Scholar, and periodically archived in the National Library of Australia's PANDORA Archive. Contributors to the journal retain copyright to their work. Please read the Copyright Notice for full details.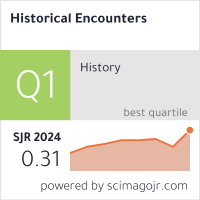 Click here to download the Journal Information booklet, with complete Author Guidelines.
Follow us on Twitter: @HEJ_HERMES or #HistoricalEncounters
A/ Professor Robert J. Parkes, PhD
Editor-in-Chief | Historical Encounters
Faculty of Education and Arts
The University of Newcastle
Callaghan NSW 2308 Australia
All correspondence: editorialteam@hermes-history.net
ISSN 2203-7543