Conversations for synthesis: Using the Harkness method in student-led historical inquiry
Abstract
The overhaul of the Queensland senior secondary syllabuses has provided a valuable opportunity to teachers to reconsider their pedagogy during the 2019-2020 implementation. For History teachers, the new syllabuses continue to promote inquiry and foreground the cognitions of analysis, evaluation and synthesis. However, the pedagogical approach suggested by the syllabus does not overtly support the students in the development of synthesising skills. This article explores one pedagogical approach, the Harkness Method, which through collaborative, student-led, structured conversations, may offer teachers and students a means by which synthesis can be explicitly modelled and practiced. This method may better enable students to develop and demonstrate this complex cognition, particularly when embedded within a broader practice of student-led inquiry.  I argue that the implementation of a student-centred approach in senior History classrooms, coupled with the explicit emphasis on and development of synthesis through the Harkness method best enables students to demonstrate the syllabus objectives and also develop the broader 21st century skills which will enable them to become the "empathetic and critically-literate citizens who are equipped to embrace a multicultural, pluralistic, inclusive, democratic, compassionate and sustainable future" (QCAA, 2019-a, p. 1), that the Syllabus aspires to.
Keywords
inquiry; student-centred; student-led; Harkness method; pedagogy; Queensland; History
References
Areaux, M. (2018, April 19). What is the Harkness discussion?: Why I've embraced this method and how it's worked for me. Retrieved from Teacher.org: https://www.teacher.org/daily/what-is-the-harkness-discussion-why-ive-embraced-this-method-and-how-its-worked-for-me/
Brookfield, S. D., & Preskill, S. (2005). Discussion as a way of teaching: Tools and techniques for democratic classrooms (2nd ed.). Jossey-Bass.
Board of Senior Secondary School Studies. (1987). Senior Syllabus in Modern History.
Board of Senior Secondary School Studies. (1995). Modern History Senior Syllabus.
Cadwell, K. (n.d.). Harkness discussion: Class expectations. Retrieved from Strategies for Classroom Dialogue: https://www.katherinecadwell.com/new-page-2
Counsell, C. (2018). Taking Curriculum Seriously. Impact: Journal of the Chartered College of Teaching (4). https://impact.chartered.college/article/taking-curriculum-seriously/
Courchesne, G. (2005). 'A suggestion of a fundamental nature': Imagining a legal education of solely electives taught as discussions. Rutgers Law Record, 29(21), pp. 21-63.
Cousin, G. (2006). An introduction to threshold concepts. Planet, 17(1), pp. 4-5.
Fisher, D., & Frey, N. (2013). Better learning through structured teaching: A framework for the gradual release of responsibility. ASCD.
Fradale, K. (2018, June 7). Addressing classroom challenges with the Harkness method. The International Educator. https://www.tieonline.com/article/2386/addressing-classroom-challenges-with-the-harkness-method
Kennedy, R. (2017, November 25). To Harkness or not to Harkness. BoardingSchoolReview.com: https://www.boarding schoolreview.com/lolog/to-harkness-or-not-to-harkness
Kiem, P. (2019). The Value of Direct Teaching and Historical Knowledge. In T. Allender, A. Clark & R. Parkes (Eds.), Historical Thinking for History Teachers (pp. 117-128). Routledge. https://doi.org/10.4324/9781003115977
McWilliam, E.L. (2009.) Teaching for creativity: from sage to guide to meddler. Asia Pacific Journal of Education, 29(3). pp. 281-293.
Perry, Lewis. (1930) Letter to Edward Harkness. Phillips Exeter Academy Archives.
Phillips Exeter Academy. (2019). Harkness. The Exeter Difference: https://www.exeter.edu/exeter-difference/how-youll-learn
QCAA. (2019-a). Modern History 2019 v1.2: General senior syllabus. Queensland Curriculum and Assessment Authority.https://www.qcaa.qld.edu.au/downloads/portal/syllabuses/snr_modern_history_19_syll.pdf
QCAA. (2019-b). QCE and QCIA policy and procedures handbook 2019 v1.1. Queensland Curriculum and Assessment Authority. https://www.qcaa.qld.edu.au/senior/certificates-and-qualifications/qce-qcia-handbook-2019
Queensland Department of Education. (2018, September). Class size target achievement and average class size. Queensland Government: https://qed.qld.gov.au/det-publications/reports/earlyyears/Documents/class-size-achievement-and-average-class-size.pdf
Resnick, L.,Asterhan, C. & Clarke, S. (2018). Accountable Talk: Instructional dialogue that builds the mind. The International Academy of Education. https://unesdoc.unesco.org/ark:/48223/pf0000262675
Sevigny, P. (2012). Extreme discussion circles: Preparing ESL students for 'the Harkness method'. Polyglossia, 23, pp. 181-191.
Smith, L. A., & Foley, M. (2009). Partners in a human enterprise: Harkness teaching in the history classroom. The History Teacher, 42(4), pp. 477-496.
Williams, G. J. (2014). Harkness learning: principles of a radical American pedagogy. Journal of Pedagogic Development, 4(3), pp. 58-67.
Refbacks
There are currently no refbacks.
Copyright (c) 2021 Alison Bedford
---
Historical Encounters is a double blind peer-reviewed, open access, interdisciplinary journal dedicated to the empirical and theoretical study of historical consciousness, historical cultures, and history education.
The journal is published by the HERMES History Education Research Network concentrated at The University of Newcastle, Australia. The journal publishes at least two issues per year (one will typically have a special theme). To ensure timely availability of scholarship, articles and reviews are published as soon as they have been successfully through the peer review and editorial processes, adding cumulatively to the content for the single regular issue each year. No fees are charged for subscription or publication. The journal is indexed in SCOPUS, DOAJ, and Google Scholar, and periodically archived in the National Library of Australia's PANDORA Archive. Contributors to the journal retain copyright to their work. Please read the Copyright Notice for full details.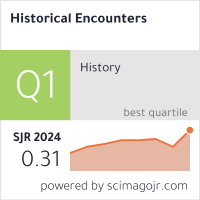 Click here to download the Journal Information booklet, with complete Author Guidelines.
Follow us on Twitter: @HEJ_HERMES or #HistoricalEncounters
A/ Professor Robert J. Parkes, PhD
Editor-in-Chief | Historical Encounters
Faculty of Education and Arts
The University of Newcastle
Callaghan NSW 2308 Australia
All correspondence: editorialteam@hermes-history.net
ISSN 2203-7543