In pursuit of the voice of Venus: Listening for empathy in the history classroom
Abstract
The focus of this article is on perspectives and empathy[HS1]  to consider how they operate in the leading New Zealand Māori video and installation artist, Lisa Reihana's, exhibition Lisa Reihana: Emissaries and specifically her piece, in Pursuit of Venus [infected] [hereafter: iPOVi] which animates Les Sauvages de la Mer Pacifique to reimagine the voyages of exploration and the death of James Cook. In this article I consider how the ways of viewing indicated by Reihana raise possible questions of how we teach exploration and the methodologies we employ to investigate perspectives. I specifically engage with the (re)imagining of the death – murder? – of James Cook as I ask how do we shift our perspective from being determined by the 'view from the boat' and widen it to include the 'view from the shore.' Reihana does so by employing the perspective of language – by listening and hearing and thereby obtaining understanding – to know the stories of those we could perhaps see but do not give voice to as they do speak in the language of the "world navigator, explorer or trader" (ACARA, n.d., ACHASSK084). I conclude with a discussion of how using this empathic device how it might help build pluricultural History or Humanities and Social Sciences (HASS) learning spaces in which all can listen and all can speak to be heard. 
Keywords
Empathy; Perspective; Exploration; Contested Histories; Captain James Cook
References
Australian Curriculum Assessment and Reporting Authority. (2019). The Australian Curriculum: HASS, Year 4, How people, places and environments interact, past and present, (ACHASSK084). https://www.australiancurriculum.edu.au/Search/?q=ACHASSK084
Allender, T., Clark, A., Parkes, R. (eds). (2019). Historical Thinking for History Teachers: A new approach to engaging students and developing historical consciousness. Allen and Unwin.
Bartolozzi, F. Byrne, W. after John Webber. (1784) The Death of Captain Cook (engraving). Art Gallery of NSW.
Barton, K. & Levstik, L. (2004) Teaching History for the Common Good. Erlbaum.
Beaglehole, J.C. (Ed.) (2017). The Journals of Captain James Cook on his Voyages of Discovery: Volume III, Part I: The Voyage of the Resolution and Discovery 1776-1780. Routledge.
Bioletti, S., Ranson, D. and Peel, R. (2008). Les Sauvages de la Mer Pacifique. Made in Mâcon: Investigations into the production of wallpaper. Australian Institute for the Conservation of Cultural Material National Conference. https://nga.gov.au/conservation/paper/lessauv.cfm
Borofsky, R. (1997) "Cook, Lono, Obeyesekere, and Sahlins," Current Anthropology. 38(2), 255-282. https://doi.org/10.1086/204608
Carr, E.H. (1961) What Is History? Penguin.
Carter, H. B. (2001). Note on the Drawings by an Unknown Artist from the Voyage of HMS Endeavour. In M. Lincoln (Ed.), Science and Exploration in the Pacific: European Voyages to the Southern Oceans in the Eighteenth Century (pp. 133-149). Boyell & Brewer.
Clifford, A. (2017). Unmuting History: A Polyphonic Tableau. In Auckland Art Gallery (Ed.), Lisa Reihana: Emissaries (pp. 124-130). Auckland Art Gallery Toi o Tāmaki.
Cook, J. (1784). A voyage to the Pacific Ocean: undertaken, by the command of His Majesty, for making discoveries in the northern hemisphere ... : performed under the direction of Captains Cook, Clerke, and Gore, in His Majesty's ships the Resolution and Discovery : in the years 1776, 1777, 1778, 1779, and 1780 / Vol. I and II written by James Cook ; vol. III by James King. W. and A. Strahan.
Currie, N. E. (2005). Constructing Colonial Discourse: Cook at Nootka Sound, 1778. McGill-Queen's Press.
Daws, G. (1968) Shoal of time: A history of the Hawaiian Islands. Macmillan.
Devenport, R. (2017b). Emissaries: A New Pacific of the Past for Tomorrow. In Auckland Art Gallery (Ed.), Lisa Reihana: Emissaries (pp. 14-30). Auckland Art Gallery Toi o Tāmaki.
Devenport, R. (2017a). Preface. In Auckland Art Gallery (Ed.), Lisa Reihana: Emissaries (pp. 10-14). Auckland Art Gallery Toi o Tāmaki.
Domercq, J. (2013). "A Hero's Death". Apollo. 178(611), 44-50.
Dufour, J. et Cie, Charvet, J-G. Les Sauvages de la Mer Pacifique 1805 (woodblock, printed in colour, from multiple blocks; hand-painted gouache through stencils). National Gallery of Australia
Endacott, J., & Brooks, S. (2013). An Updated Theoretical and Practical Model for Promoting Historical Empathy. Social Studies Research and Practice, 8, 41-58.
Frame, W. The third voyage of James Cook. The Voyages of Captain James Cook. British Library. https://www.bl.uk/the-voyages-of-captain-james-cook/articles/the-third-voyage-of-james-cook
Fullagher, K. (2019). Rethinking foundational histories. Portrait Magazine. 61. https://www.portrait.gov.au/magazines/61/rethinking-foundational-histories
Hartman, S. (2008). Venus in Two Acts. Small Axe. 12 (2), 1–14. https://read.dukeupress.edu/small-axe/article/12/2/1/32332/Venus-in-Two-Acts
Howe, K.R. (1996) Review article: The making of cook's death. The Journal of Pacific History, 31(1), pp. 108-118, DOI: 10.1080/00223349608572810
Jefferson, D. (2018). Lisa Reihana: a monumental, immersive new artwork reanimates the story of Captain Cook and first contact. ABC Arts. 31 January. https://www.abc.net.au/news/2018-01-31/lisa-reihana-in-pursuit-of-venus-reimagines-australian-history/9376114
John Curtin Gallery. (2018 ) Lisa Reihana: Emissaries. Perth, Western Australia. https://jcg.curtin.edu.au/emissaries-lisa-reihana/
Joppien, R. (1992). John Webber. Design & Art Australia Online. https://www.daao.org.au/bio/john-webber/biography/
Khatun, S. (2018). Australianama: The South Asian Odyssey in Australia. Oxford University Press.
Kornfeld, E. (1992). "The Power of Empathy: A Feminist, Multicultural Approach to Historical Pedagogy". The History Teacher. 26(1), 23-31.
Lévesque, S. (2008). Thinking Historically, Educating Students for the Twenty-First Century. University of Toronto Press.
Looser, D. (2017). Viewing Time and the Other: Visualizing Cross-Cultural and Trans-Temporal Encounters in Lisa Reihana's in Pursuit of Venus [infected]. Theatre Journal 69(4), 449-475.
McCalman, I. (2016) The Reef: The Great Barrier Reef in Twelve Extraordinary Tales. Penguin.
Nepia, M. (2017). About the Artist: Lisa Reihana. The Contemporary Pacific. 29(1), VII-XVI. https://doi:10.1353/cp.2017.0000.
Obeyesekere, G. (1992) The apotheosis of James Cook : European mythmaking in the Pacific. Princeton University Press.
Reynolds, H. (1972). Aborigines and Settlers: the Australian Experience, 1788–1939. Cassell Australia Limited.
Riley, K. L. (1998). "Historical empathy and the Holocaust: Theory into practice". International Journal of Social Education. 13(1), 32-42.
Ryan, L. (1981). The Aboriginal Tasmanians. UQ Press.
Stanner, W.E.H. (1969). After the dreaming: black and white Australians: an anthropologist's view. Australian Broadcasting Commission.
Sahlins, M. (1995) How "Natives" Think About Captain Cook, For Example. University of Chicago Press.
Seixas, P. (2000) Schweigen! Die Kinder! or Does Postmodern History Have a Place in the Schools?. In P. Stearns, P. Seixas &
S. Wineburg (Eds.) Knowing, Teaching and Learning History: National and International Perspectives (19-37). New York University Press.
Seixas, P. and Morton, T. (2012) The Bog Six Historical Thinking Concepts. Toronto: Nelson Publishing.
Smallman, E. (2018). Interview: Why I made Captain Cook lose his breeches: Lisa Reihana on her colonial video epic. The Guardian. Oct. 16. https://www.theguardian.com/artanddesign/2018/oct/15/lisa-reihana-in-pursuit-of-venus-infected-oceania-royal-academy-london
Thomas, N. (2017). Lisa Reihana: Encounters in Oceania [online]. Artlink. 37(2), 22-27. https://search.informit.com.au/documentSummary;dn=848432157030814;res=IELAPA
Webb, V. (2015). Re-animating encounter: Lisa Reihana's in pursuit of Venus [infected] [online]. Art Monthly Australia, 285, 20-23. https://search.informit.com.au/documentSummary;dn=558098885541337;res=IELLCC
Webb, V. (2017). Les Sauvages de la Mer Pacifique: A Decorative Composition in Wallpaper. In Auckland Art Gallery (Ed.), Lisa Reihana: Emissaries (116-124). Auckland, Aotearoa New Zealand: Auckland Art Gallery Toi o Tāmaki.
Webber, J. (1781) The Death of Captain Cook (oil painting). State Library of New South Wales.
White, R. (1981) Inventing Australia: images and identity 1688-1980. Allen & Unwin.
Yeager, Elizabeth Anne, Tim Anderson, James Winston Morris, Scott Maley and Stuart David Foster. (1998). "Why People in the Past Acted as They Did: An Exploratory Study in Historical Empathy." International Journal of Social Education, 13, 8-24.
Young, M. (2018). Review(s) of: Lisa Reihana: Cinemania, Campbelltown Arts Centre, Sydney. ArtAsiaPacific. 107, 149. https://search-informit-com-au.dbgw.lis.curtin.edu.au/documentSummary;dn=407905764819977;res=IELHSS
Refbacks
There are currently no refbacks.
Copyright (c) 2021 Samantha Owen
---
Historical Encounters is a double blind peer-reviewed, open access, interdisciplinary journal dedicated to the empirical and theoretical study of historical consciousness, historical cultures, and history education.
The journal is published by the HERMES History Education Research Network concentrated at The University of Newcastle, Australia. The journal publishes at least two issues per year (one will typically have a special theme). To ensure timely availability of scholarship, articles and reviews are published as soon as they have been successfully through the peer review and editorial processes, adding cumulatively to the content for the single regular issue each year. No fees are charged for subscription or publication. The journal is indexed in SCOPUS, DOAJ, and Google Scholar, and periodically archived in the National Library of Australia's PANDORA Archive. Contributors to the journal retain copyright to their work. Please read the Copyright Notice for full details.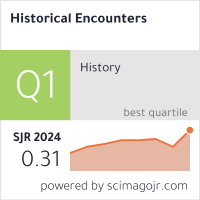 Click here to download the Journal Information booklet, with complete Author Guidelines.
Follow us on Twitter: @HEJ_HERMES or #HistoricalEncounters
A/ Professor Robert J. Parkes, PhD
Editor-in-Chief | Historical Encounters
Faculty of Education and Arts
The University of Newcastle
Callaghan NSW 2308 Australia
All correspondence: editorialteam@hermes-history.net
ISSN 2203-7543