Historical empathy activities in Australian history textbooks: An assessment tool to examine disciplinary and cognitive domains
Abstract
Historians study what has already happened and so must have a mechanism to reconstruct the past in the present. The past is revived via the historian's imagination and perspective, as Parfitt (2001, p.7) asserts, "to imagine something is to make that thing present and real for ourselves." To empathize in history is founded on the assumption that the past can be reconstructed—at least in part—and accessed so that the thoughts, intentions, and actions of historical actors can be understood and so connect the past and the present. This paper examines activities in Australian high school history textbooks that include empathy activities to engage students in learning history, focusing on the Australian civil rights movement of Aboriginal and Torres Strait Islanders throughout the 20th century. The paper introduces an assessment tool which incorporates Ashby and Lee's (1987) levels of empathetic understanding and Biggs and Tang's (2007) Structured of Observed Learning Outcomes (SOLO) taxonomy to aid in evaluating historical empathy activities included in textbooks designed for the Australian Curriculum: History. Data shows that the majority of historical empathy tasks require only low level empathetic responses and cognitive complexity. This paper concludes, that although modern-day textbooks have opportunities to provide a rich array of multimodal sources to inform historical empathy tasks, they predominately call on students to produce unsubstantiated and ahistorical responses.
Keywords
Historical Thinking; Historical Empathy
Refbacks
There are currently no refbacks.
Copyright (c) 2021 Debra Donnelly, Heather Sharp
---
Historical Encounters is a double blind peer-reviewed, open access, interdisciplinary journal dedicated to the empirical and theoretical study of historical consciousness, historical cultures, and history education.
The journal is published by the HERMES History Education Research Network concentrated at The University of Newcastle, Australia. The journal publishes at least two issues per year (one will typically have a special theme). To ensure timely availability of scholarship, articles and reviews are published as soon as they have been successfully through the peer review and editorial processes, adding cumulatively to the content for the single regular issue each year. No fees are charged for subscription or publication. The journal is indexed in SCOPUS, DOAJ, and Google Scholar, and periodically archived in the National Library of Australia's PANDORA Archive. Contributors to the journal retain copyright to their work. Please read the Copyright Notice for full details.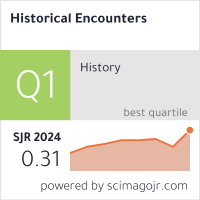 Click here to download the Journal Information booklet, with complete Author Guidelines.
Follow us on Twitter: @HEJ_HERMES or #HistoricalEncounters
A/ Professor Robert J. Parkes, PhD
Editor-in-Chief | Historical Encounters
Faculty of Education and Arts
The University of Newcastle
Callaghan NSW 2308 Australia
All correspondence: editorialteam@hermes-history.net
ISSN 2203-7543