Historical consciousness and metaphor: Charting new directions for grasping human historical sense-making patterns for knowing and acting in time
Abstract
In adding on to narrative as one dominant means of studying and analysing expressions of historical consciousness, this paper attempts to explicate two potential roles of metaphor for fully capturing human historical sense making patterns as they pertain to living life. By bringing together cognitivist viewpoints regarding conceptual metaphors and their underlying mappings of core life concepts with more literary uses of metaphor as a central means of re-describing reality through paranarrative readings of textual extracts, a potentially novel way of looking at the operations of historical consciousness emerges – one where conventionalized conceptual metaphors underlying the logic of history seem to embed the conditions under which individuals either rely on pre-given significations of the past for knowing and acting in time, or rather seek plausible-like meanings instead. The author illustrates his ideas through an analysis of Milan Kundera's embellished commentary on the ironies regarding the politics of remembering and forgetting during Czechoslovakia's communist period in The Book of Laughter and Forgetting. In recognizing the experimental nature of his endeavour, the author nonetheless calls for further exploration and empirical research, particularly with real world human participants, to develop metaphor as a respected medium of research in the area of historical consciousness.
Keywords
Historical Consciousness; Metaphor; Historical Sense-Making; Narrative Studies.
Refbacks
There are currently no refbacks.
Copyright (c) 2021 Paul Zanazanian
---
Historical Encounters is a double blind peer-reviewed, open access, interdisciplinary journal dedicated to the empirical and theoretical study of historical consciousness, historical cultures, and history education.
The journal is published by the HERMES History Education Research Network concentrated at The University of Newcastle, Australia. The journal publishes at least two issues per year (one will typically have a special theme). To ensure timely availability of scholarship, articles and reviews are published as soon as they have been successfully through the peer review and editorial processes, adding cumulatively to the content for the single regular issue each year. No fees are charged for subscription or publication. The journal is indexed in SCOPUS, DOAJ, and Google Scholar, and periodically archived in the National Library of Australia's PANDORA Archive. Contributors to the journal retain copyright to their work. Please read the Copyright Notice for full details.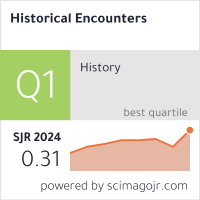 Click here to download the Journal Information booklet, with complete Author Guidelines.
Follow us on Twitter: @HEJ_HERMES or #HistoricalEncounters
A/ Professor Robert J. Parkes, PhD
Editor-in-Chief | Historical Encounters
Faculty of Education and Arts
The University of Newcastle
Callaghan NSW 2308 Australia
All correspondence: editorialteam@hermes-history.net
ISSN 2203-7543