Civic consciousness: A viable concept for advancing students' ability to orient themselves to possible futures?
Abstract
In history didactics the concept of historical consciousness has become an important theoretical framework in developing a meaningful history education. One significant aspect of historical consciousness is to give students a "usable past" to orient to possible futures. Previous research has shown that history is important when students think about the future but that their use of history in meaning-making is simplistic and based on present-day-thinking. Much research has focused on advancing students' ability to use history in orientation to possible futures, but less attention has been focused on contemporary studies and its role in the process of orientation. By introducing a tentative concept, civic consciousness, the issue of students' orientation is explored by studying students' perspectives on democracy in past-present-future. The data consists of 142 narratives and reveals a pattern of normative stances, process orientation and action orientation. These aspects are considered to be important components of civic consciousness and these have implications for how social studies educators should address the challenges of preparing students for the future. 
Keywords
historical consciousness; history education; history didactics; civic consciousness; social science; social studies; civics; citizenship education
Refbacks
There are currently no refbacks.
Copyright (c) 2021 Johan Sandahl
---
Historical Encounters is a double blind peer-reviewed, open access, interdisciplinary journal dedicated to the empirical and theoretical study of historical consciousness, historical cultures, and history education.
The journal is published by the HERMES History Education Research Network concentrated at The University of Newcastle, Australia. The journal publishes at least two issues per year (one will typically have a special theme). To ensure timely availability of scholarship, articles and reviews are published as soon as they have been successfully through the peer review and editorial processes, adding cumulatively to the content for the single regular issue each year. No fees are charged for subscription or publication. The journal is indexed in SCOPUS, DOAJ, and Google Scholar, and periodically archived in the National Library of Australia's PANDORA Archive. Contributors to the journal retain copyright to their work. Please read the Copyright Notice for full details.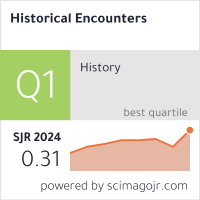 Click here to download the Journal Information booklet, with complete Author Guidelines.
Follow us on Twitter: @HEJ_HERMES or #HistoricalEncounters
A/ Professor Robert J. Parkes, PhD
Editor-in-Chief | Historical Encounters
Faculty of Education and Arts
The University of Newcastle
Callaghan NSW 2308 Australia
All correspondence: editorialteam@hermes-history.net
ISSN 2203-7543