Improving online source analysis in history education: Trialling the Ethos model
Abstract
This paper reports on the findings of a study that compared models of online source analysis. It is argued that there is disconnect between print-based (classical) approaches to teaching online source analysis in history, and how students are informally analysing online information. It will be argued that this disconnect makes it difficult for students to effectively analyse online sources containing false and misleading information. In order to address this issue, formal web-based approaches to online source analysis need to be developed and evaluated. The paper puts forward Shane Borrowman's (1999) application of the Aristotle's concept of Ethos as a framework through which online source analysis can be formalised, and student critical awareness can be activated. The study was conducted with Australian senior high school students, who evaluated Holocaust denial websites before and after an intervention. The responses in each case were compared, and it was found that formalising students' web-based models of analysis significantly increased the depth and criticality of their engagement. This paper contributes to the debate on how to most effectively activate student critical awareness when analysing online historical sources.
Keywords
History teaching, online education, Holocaust denial, source analysis.
Refbacks
There are currently no refbacks.
Copyright (c) 2015 James Goulding
---
Historical Encounters is a double blind peer-reviewed, open access, interdisciplinary journal dedicated to the empirical and theoretical study of historical consciousness, historical cultures, and history education.
The journal is published by the HERMES History Education Research Network concentrated at The University of Newcastle, Australia. The journal publishes at least two issues per year (one will typically have a special theme). To ensure timely availability of scholarship, articles and reviews are published as soon as they have been successfully through the peer review and editorial processes, adding cumulatively to the content for the single regular issue each year. No fees are charged for subscription or publication. The journal is indexed in SCOPUS, DOAJ, and Google Scholar, and periodically archived in the National Library of Australia's PANDORA Archive. Contributors to the journal retain copyright to their work. Please read the Copyright Notice for full details.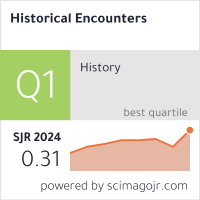 Click here to download the Journal Information booklet, with complete Author Guidelines.
Follow us on Twitter: @HEJ_HERMES or #HistoricalEncounters
A/ Professor Robert J. Parkes, PhD
Editor-in-Chief | Historical Encounters
Faculty of Education and Arts
The University of Newcastle
Callaghan NSW 2308 Australia
All correspondence: editorialteam@hermes-history.net
ISSN 2203-7543