Historical literacy and contradictory evidence in a Finnish high school setting: The Bronze Soldier of Tallinn
Abstract
This article revolves around three key issues. Firstly, Finnish national core curriculum fixes the focus of history teaching to students' critical and historical thinking skills and the traditional approach to history teaching as memorizing of facts and chains of events has been changing over the last 30 years. However, the Finnish core curriculum leaves a lot of maneuvering scope for schools and individual teachers and it would seem that teachers still emphasize content over skills with too little focus on historical thinking skills. Secondly, Finland has so far been lacking in research of students' historical thinking skills, even if it has been adopted as an important part of the curriculum. What existing research there is shows that only few students are able to evaluate the information available and make sense of contradictory interpretations of past events. Thirdly, this article reports an experiment that aimed at offering students more opportunities to develop their historical thinking skills and at the same time evaluated their ability for historical thinking. The case chosen was confrontation in Estonia between ethnic Russian and Estonian population around historical interpretations of the so-called Bronze Soldier that led to unrests and violence in Tallinn in 2007. Our research points out that Finnish students have a lot of weaknesses in their text skills. Furthermore, there is a need for research that would examine what kind of interventions change how students learn and how their ability for historical thinking can be improved. It would be equally important to evaluate teachers' thinking, how they think about history and the way they implement national curriculum.
Keywords
Historical thinking, Historical literacy, History teaching, Finland, High school students, Critical thinking skills
Refbacks
There are currently no refbacks.
Copyright (c) 2016 Anna Veijola, Simo Mikkonen
---
Historical Encounters is a double blind peer-reviewed, open access, interdisciplinary journal dedicated to the empirical and theoretical study of historical consciousness, historical cultures, and history education.
The journal is published by the HERMES History Education Research Network concentrated at The University of Newcastle, Australia. The journal publishes at least two issues per year (one will typically have a special theme). To ensure timely availability of scholarship, articles and reviews are published as soon as they have been successfully through the peer review and editorial processes, adding cumulatively to the content for the single regular issue each year. No fees are charged for subscription or publication. The journal is indexed in SCOPUS, DOAJ, and Google Scholar, and periodically archived in the National Library of Australia's PANDORA Archive. Contributors to the journal retain copyright to their work. Please read the Copyright Notice for full details.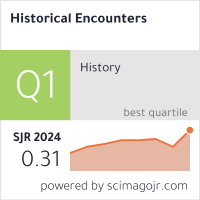 Click here to download the Journal Information booklet, with complete Author Guidelines.
Follow us on Twitter: @HEJ_HERMES or #HistoricalEncounters
A/ Professor Robert J. Parkes, PhD
Editor-in-Chief | Historical Encounters
Faculty of Education and Arts
The University of Newcastle
Callaghan NSW 2308 Australia
All correspondence: editorialteam@hermes-history.net
ISSN 2203-7543