Historical and moral consciousness in the light of ethics of dissensus: One approach to handle plurality in education
Abstract
In the light of current tendencies where the fear of foreigners is increasing in seemingly stably democratic societies. This paper aims to revive the presence of the body as a central condition and experience for human interaction. The body as an inevitable source for conscious/unconscious responses to others helps to understand how various forms of violence such as xenophobia and hate crimes come into expression. The purpose of this contribution is to theoretically explore and empirically exemplify the relationship between historical consciousness and moral consciousness as an educational concern by turning to the writings of Ewa Ziarek and her notion of ethics of dissensus. Through the concept of ethics of dissensus she brings a fresh dimension into the discussion of how the relationship between historical and moral consciousness can be understood. She does this by providing concepts and understandings of how (history) education can be approached without overlooking the complicated presence of difference between the past-present-future, between two subjects and between the inner and the outer life.  Accordingly, Ziarek's reasoning suggests the need to leave the simplified playing field of 'either-or' and engage in the communicative negotiation that constitutes the fragile middle-ground between two extreme poles in history education.  
Keywords
democracy, emancipation, plurality, ethics of dissensus, historical and moral consciousness, teachers' responsibilities
Refbacks
There are currently no refbacks.
Copyright (c) 2021 Silvia Edling
---
Historical Encounters is a double blind peer-reviewed, open access, interdisciplinary journal dedicated to the empirical and theoretical study of historical consciousness, historical cultures, and history education.
The journal is published by the HERMES History Education Research Network concentrated at The University of Newcastle, Australia. The journal publishes at least two issues per year (one will typically have a special theme). To ensure timely availability of scholarship, articles and reviews are published as soon as they have been successfully through the peer review and editorial processes, adding cumulatively to the content for the single regular issue each year. No fees are charged for subscription or publication. The journal is indexed in SCOPUS, DOAJ, and Google Scholar, and periodically archived in the National Library of Australia's PANDORA Archive. Contributors to the journal retain copyright to their work. Please read the Copyright Notice for full details.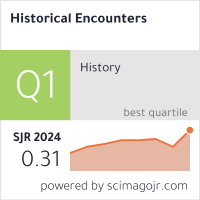 Click here to download the Journal Information booklet, with complete Author Guidelines.
Follow us on Twitter: @HEJ_HERMES or #HistoricalEncounters
A/ Professor Robert J. Parkes, PhD
Editor-in-Chief | Historical Encounters
Faculty of Education and Arts
The University of Newcastle
Callaghan NSW 2308 Australia
All correspondence: editorialteam@hermes-history.net
ISSN 2203-7543