Exploring pedagogical approaches for connecting the past, the present and the future in history teaching
Abstract
Using the past to orientate on the present and the future can be seen as one of history's main contributions to educating future citizens of democratic societies. Because teachers often lack useful methods for pursuing this goal, this study explores three pedagogical approaches that may help them making connections between the past, the present and the future: working with longitudinal lines (LL), with enduring human issues (EHI) and with historical analogies (HA). The efficacy of these approaches was examined in three case studiesconducted in two Dutch secondary schools with eighth- to tenth-grade students (N=135) and their teachers (N=4) as participants. Explorations took place within the boundaries of the existing history curriculum and in close collaboration with the teachers who participated because they felt a need to motivate their students by means of a pedagogy to make history more useful. Findings suggest that implementing the LL- and EHI-approaches in a traditional history curriculum with chronologically ordered topics is more complicated than implementing the HA-approach. The HA-approachappears to have more potential to encourage students to use historical knowledge in present-day contexts than the other two approaches. In terms of students' appraisals of the relevance of history, the application of the EHI-approach showed positive effects. 
Keywords
History Instruction; Secondary School Curriculum; Meaningful Learning; Civic Education
Refbacks
There are currently no refbacks.
Copyright (c) 2021 Dick van Straaten, Arie Wilschut, Ron Oostdam
---
Historical Encounters is a double blind peer-reviewed, open access, interdisciplinary journal dedicated to the empirical and theoretical study of historical consciousness, historical cultures, and history education.
The journal is published by the HERMES History Education Research Network concentrated at The University of Newcastle, Australia. The journal publishes at least two issues per year (one will typically have a special theme). To ensure timely availability of scholarship, articles and reviews are published as soon as they have been successfully through the peer review and editorial processes, adding cumulatively to the content for the single regular issue each year. No fees are charged for subscription or publication. The journal is indexed in SCOPUS, DOAJ, and Google Scholar, and periodically archived in the National Library of Australia's PANDORA Archive. Contributors to the journal retain copyright to their work. Please read the Copyright Notice for full details.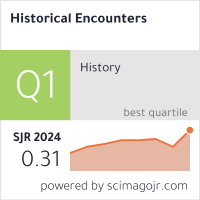 Click here to download the Journal Information booklet, with complete Author Guidelines.
Follow us on Twitter: @HEJ_HERMES or #HistoricalEncounters
A/ Professor Robert J. Parkes, PhD
Editor-in-Chief | Historical Encounters
Faculty of Education and Arts
The University of Newcastle
Callaghan NSW 2308 Australia
All correspondence: editorialteam@hermes-history.net
ISSN 2203-7543