Identity and instrumentality: History in the Scottish school curriculum, 1992-2017
Abstract
This paper explores changes in the Scottish history curriculum over the last quarter-century and interprets these in the context of wider debates about Scottish nationhood. By comparing the framing of history within Scotland's two national curriculum documents of this period (5-14 Guidelines and Curriculum for Excellence) it is argued that an implicit narrative of national identity has emerged. This curricular nationalism is not the nationalism of separatism, but rather of a national sense of self which informs both how the past is viewed, and Scotland's future relationship with the world. The paper develops this contention using concepts proposed from Arnott and Ozga (2010)regarding an 'inward-facing' discourse of heritage and citizenship and the 'outward-facing' discourse of employability and global competitiveness While this emergent curricular nationalism has paralleled growing support for self-determination, the paper does not posit a causal relationship between the two. Instead it implies that both are consequences of the discursive spaces opened by devolution and the recreation of the Scottish parliament in 1999.
Keywords
History Education; History Curriculum; Nationalism
Refbacks
There are currently no refbacks.
Copyright (c) 2021 Joseph Peter Smith
---
Historical Encounters is a double blind peer-reviewed, open access, interdisciplinary journal dedicated to the empirical and theoretical study of historical consciousness, historical cultures, and history education.
The journal is published by the HERMES History Education Research Network concentrated at The University of Newcastle, Australia. The journal publishes at least two issues per year (one will typically have a special theme). To ensure timely availability of scholarship, articles and reviews are published as soon as they have been successfully through the peer review and editorial processes, adding cumulatively to the content for the single regular issue each year. No fees are charged for subscription or publication. The journal is indexed in SCOPUS, DOAJ, and Google Scholar, and periodically archived in the National Library of Australia's PANDORA Archive. Contributors to the journal retain copyright to their work. Please read the Copyright Notice for full details.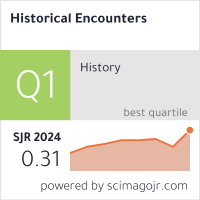 Click here to download the Journal Information booklet, with complete Author Guidelines.
Follow us on Twitter: @HEJ_HERMES or #HistoricalEncounters
A/ Professor Robert J. Parkes, PhD
Editor-in-Chief | Historical Encounters
Faculty of Education and Arts
The University of Newcastle
Callaghan NSW 2308 Australia
All correspondence: editorialteam@hermes-history.net
ISSN 2203-7543